This is the fourth of my 12 part series featuring what I considered being some of the best blues music of 2015. As always the questions were crafted by you, the fans and the answers are verbatim. Mojomama is the brain child of Jessica and Paul Rogalski. Jessica provides the vocals, Paul the bass. Accompanying them are Paul Christiansen on drums, Bob Murnahan on guitars, Tim Davis on keys, Anne Harris on violin and if that isn't enough to get you excited there is a cut called Be A Legend (actually the cut that drew me to find out more about Mojomama) features none other than Janiva Magness. The Colorado Blues Society awards Mojomama with best self produced cd 2015! This 11 song CD is packed with everything BLUES and in my humble opinion should grace your collection of best blues CDs.

How has this project changed you or the way you work?
Mojomama has been evolving for 13 years now, the way it has changed me is by allowing my natural talents and instincts as an artist to grow and develop from ideas in my mind to actual experiences of contentment on stage. I would call it "Creative freedom"
From a vocalist standpoint, talk about your voice as an instrument.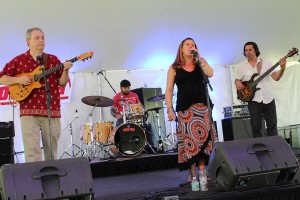 I am a vocalist first, so I have spent many years focusing on building my ear, singing along with every voice that moves me, joining every band I could, learning from vocal teachers and then becoming a vocal instructor myself. As a teacher, I have been able to learn how to not only express my natural talent but give others the tools to find their own voices. Through technique and digging into the emotion of the song, I have been able to find the "sweet spot" and really let go in the moment That is the real payoff of any musicians hard work. The ability to free your mind and let the instrument, my voice, really sing. I play piano on the side it has become a great songwriting tool as well as a great personal experience.
How did you feel about writing the song "Eternity"?
The song Eternity was one of the first songs I wrote on the piano. I was playing around with the chord progression and this beautiful haunting melody followed. It is one of the songs on the album that is about ME and the insecurity that all of us feel when we meet our soul mate. It is a song for my husband and band mate Paul Rogalski how love can be so strong and yet there is a fragile edge to life that is always there reminding us to hold on tight to what we have while we have it. My dad loves the song so much he got a Celtic knot tattoo and spelled out Eternity around the edges of the artwork.
4.What was your most memorable gig and why?
We have has soooo many great moments . Mojomama cd release party was a blast! We have so much love in the room I won't ever forget it. We played for over 1000 people opening up for Ozomatli at Left-hand brewery festival. The best is still yet to come, I want more! However sharing the stage with Susan Tedeschi was so much fun! We sang Angel from Montgomery at the Snowy Range music festival 2009.
Why do you play/sing? Artists are inspired by many things, what inspires you?
What inspires me? Life, people,music, experiences,pain ,happiness,common issues, love, loss, the past and the future, there is inspiration everywhere.
Tell us the last few shows you went to see.
My mom and I won tickets from KBCO to see Paolo Nutini at the Soiled Dove in Denver, I had seen him before but this night had a profound effect on me. I was feeling down about the music scene and the business of music and thinking I should just give it up! As I watched this show I finally felt real inspiration behind his words and the soul in his voice cut right through me! As a professional musician sometimes it's hard to turn off my inner critic and just listen and feel and believe in it all the way, and that night I decided to keep going and keep pouring my heart out for the love of music. I decided to get back into the studio and record the next Mojomama album.
What is your songwriting process?
The songwriting process is multifaceted. Paul and I write together in a very organic nature, he brings a drum and bass groove and I create a melody, a hook a story to his groove. Sometimes I sit down at the piano and play around with different chord progressions until a melody is sparked and usually a story forms in my head. The emotion of the music is always what leads me to the lyrics, I want to tell the story the way the music makes me feel. Other times the whole band gets together and says" let's write a slow blues like Bonnie Raitt's Love me like a man" something we can solo over ,12 bar blues format that I can wail on. Those sessions are more contrived, choosing the tempo, blues format, key and subject matter. The song "Be a Legend" was written to detail the history of blues and pay homage to our blues inspirations from the past to present. We were so excited to have my friend Janiva Magness guest star on that track, she is a Legend in her time!
8.When did it hit you that music was your life?
I was in my early 20's and realized that music just wouldn't let me leave it behind. I didn't really believe it could be a full-time life until about 10 years ago when Paul and I opened our music school, Mojos music academy in Longmont Co. Teaching and playing in Mojomama has created a career for us that is both lucrative and soul satisfying . The friends we have made and lives we have touched have made music a truly meaningful part of our lives.
9.What was your first musical experience that moved you enough to take action and become a musician as opposed to a fan?
I have been singing lead vocals in a band since I was 15 years old. I joined my first working band by 18 an all-female folk-rock band "London Underground"
What would you be doing if you weren't playing music for a living?
Good Question, I am a great cook, so maybe culinary work
11.  If you were to write your memoir what would it be called?
That Jersey girl can sing!
Tell us something about yourself that has never been printed about you before.
I almost talked myself out of being a singer in my mid 20's but music just kept knockin on my door, and I'm glad I answered…
Mojomama Cd can be purchased at Itunes and CDBaby