This is the first in a series of a dozen interviews with folks that I thought had stand out CD's in 2015. The questions actually came about from a post I made on my Facebook page asking fans what they would want me to ask the artists. Out of a total of 19 questions I picked out twelve for each artist that I would make the centerpiece of the column showcasing their 2015 release. 12 questions for 12 artists, the answers to each are verbatim. I sure do hope you enjoy reading it as much as I enjoyed writing it!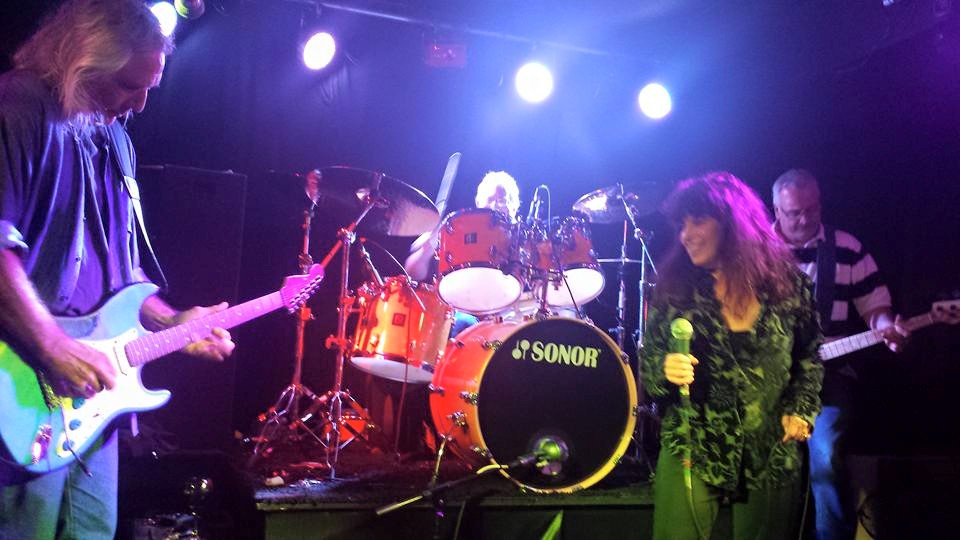 What better place to start than with the Allen-Lamun Band who I had the pleasure of meeting in Memphis this year during IBC week! Both clad in what I think is their signature look, black leather jackets, they introduced themselves and handed me their sophomore effort CD, "Maybe It's a Good Thing" and when I got home and gave a listen I had no doubt this is a good time for Allen-Lamun Band, maybe even a perfect time for them. I was more than pleasantly surprised. This is a stand out CD for me because its all original songs written by both of these artists together and separately with all the components of great blues songs, about relationships and the trials and tribulations of life and love. There are several songs on it that really grabbed me. In fact, six of them are receiving airplay, quite a feat to have six cuts being spun at the same time around the globe! After the first listen I particularly liked Half of Me written by Laura Lamun, about being half in and half out of a relationship and not sure which way to go, all in or all out! I also liked I Love You Pretty Baby, written by Dave Allen, a song about the hope of a new love and Good News Channel about faith and finding the belief in yourself to tune into the good good news channel inside you. This is one of those CD's where there just isn't a bad song on it and I'm so happy to have run across it and Laura Lamun and Dave Allen.
Q: Has this project changed you or the way you work?
D; The record definitely changed our situation. Recording a second album with great musicians in Nashville was one of our goals, so now we are elevating onto the next phase. More of our new musician friends understand us and our work better since hearing the record. And now we have a real performing band from Nashville and can WORK.
L: Making this record made us work faster, harder and better…the stakes are high in Music City. We learned we could actually write a song and record it with the big boys in one day. We have had to maintain our A-game, badass attitude constantly and deliver at every session, every jam, every show. The pressure is high. We work smarter now and try to be super prepared and ready for everything!
Q: Do you have a special name for the instrument you play?
D: I love to play my Telecaster, Rusty. I have named all my guitars, Rusty, Missy, Sunny, Fatty, Woody, to name a few.
Q: How did you feel after writing I Love You Pretty Baby and Good News Channel?
D: I Love You Pretty Baby-When I wrote this song I was looking for something simple and sparse that said how I felt. I had been working it for 8 or 9 days and then I woke up around 3:30 in the morning listening to the song in my head. The words started coming, so I got up and wrote the whole thing in a few minutes. I felt happy and proud and I thought if I heard this song by someone else I would have wished I have been the one to write it.
L: I had been trying to write Good News Channel for at least 2 years. When I finally got the whole song completed and out of me it felt like a miracle-A real divine collaboration. I was so relieved-it was like I finished my graduate thesis or something. Plus-it felt so good to finally FIND the way to write that song, from the right perspective, and say what I wanted to say. I wrote it for my sister Lisa, for Dave Allen, for humanity-for all people who need encouragement.
Q: What was your most memorable gig and why?
A: We think our most memorable gigs are to come in this next year, since we finally have a touring band, a new record to support and the best players ever! BUT-Laura did sing the National Anthem for the Colorado Rockies baseball team in front of 52,000 people. Dave Allen recently got to play with Jeremy Wall (keyboard genius and founder of Spyro Gyra) and Phil Hernandez (Broadway and TV star) in a sold out concert-they rehearsed the show and recorded a full album in 8 days.
Q: Why do you play/sing? Artists are inspired by many things, what inspires you?
D: if you are talking about songwriting-Married life and the news inspires me (both laughing).
L: We are both inspired by working with the very best musicians-they make us raise our game and dig deeper for what we can offer. I am inspired constantly to try to say something that will make the world a better place, bring a smile to someone's face, raise someone's spirits, that's just my nature. I want to write the best songs and sing them the best way I can. We are both inspired to make the best band ever and play all the time with them.
Q: Tell us the last few shows you went to see.
We saw Jack Pearson twice this last month. We saw Tab Benoit. We went to the IBC in Memphis and saw all the latest blues talent and all the established greats, late at night.
Q: What is your songwriting process?
A: There are no rules in songwriting. It can be instant or it can take awhile. We sometimes do it on our own and sometimes with each other. When we write together it is because we have hit on an idea of some kind that gets us going. The music and some of the lyrics usually start sparking and then we rough out a version, record it right away on a little recorder and we each contribute our best ideas to finish it. Sometimes we get it all out and sometimes we continue to work on it for days or even months.
Q: What artists or bands get your heart a flutterin'?
A: We love the big band family style awesomeness that is the Tedeschi-Trucks Band-husband and wife rippers with the best band ever! We love Andy T and Nick Nixon Band-they are our friends and a Nashville band nominated for a BMA for Best Band this year. We love Bob Margolin. Our favorite bands at the IBC semifinalists and great friends, Eight O'Five Jive and the Hector Anchondo Band (finalists).
D: I am loving global guitar master Jack Pearson, I love Ronnie Earl and love the Beatles. I grew up through the age of rock n' roll and love the vocal bands like Crosby, Stills, Nash & Young all the way to Led Zeppelin, too many to mention but you can hear their influences in our music.
L: I love Shaun Murphy, Candye Kane, BB King, Prince, James Brown, Jeff Beck, Stevie Wonder, Joni Mitchell and Todd Rundgren. Add in Pharrell, Bruno Mars and JT.
Q: What was your first musical experience that moved you enough to take action and become a musician as opposed to a fan?
D: I remember exactly the feeling I had when I was 12, in the basement of my house playing with my older brother's friends. I thought "I can't ever be without this".
L: About age 6 I realized you COULD be a musician for a living and that's pretty much when I started working toward it.
Q: What would you be doing if you weren't playing music for a living?
D: Scuba Diving
L: Playing on the beach and gardening. Doing tuning fork treatments on people.
Q: If you were to write your memoir what would it be called?
D: I LOVE YOU PRETTY BABY
L: LIVED IT UP
Q: Tell us something about yourself that has never been printed about you before.
D: I love horses, have owned many horses. I was a real cowboy for many years, doing cattle gatherings and cutting-horse competitions. My favorite lifetime horse was named Buffy, I rode him from when he was 3 to when I retired him at age 25, he lived until 32 years of age.
L: I can fit into kids clothes and shoes, saves money-they call me Little Laura!!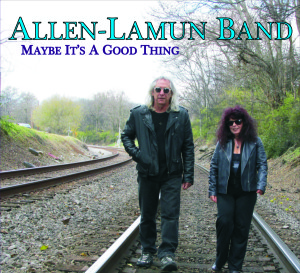 You can buy Maybe Its A Good Thing at our website at www.allenlamunband.com, CDBaby, ITunes & Amazon!