because Queen always says "no good blues shall go unused", 
and a wonderful cover I'm A Woman that will have you thinking Koko Taylor herself was singing. The three originals all penned by her and her husband Lee Ellis are sure to hit the airwaves with a big boom. Go grab yourself a copy and find out why I named this CD one of the best of 2015.
1. Has this project changed you or the way you work?

This project has absolutely made me more determined to get more of my original music out to the masses due to the positive feedback from friends, family and fans by way of purchases and airplay I am currently receiving all over the country and abroad.
2. As a vocalist talk about your voice as your instrument.

When I sing, my voice has the power to make you laugh, cry, shout, feel joy, feel sadness and a whole plethora of emotions and feelings. I can be a powerhouse when belting or sound as smooth as aged Scotch when singing a ballad. My voice is a gift and I want to use it in a way to bring people together in a good way.
3. How did you feel after writing "What Would I Do"?
Even though I didn't write "What Would I Do", this song is the most meaningful song on the CD because it was written by my husband Lee O Ellis Jr. He always says "I may not have money but this song is my gift to you that will show you, my love, forever".
4.What was your most memorable gig and why?
My most memorable gig occurred when I was just starting out. I was singing "Wang Dang Doodle" and I noticed this man sitting on a bar stool smiling and crying at the same time. After singing that song, it was time to take a break so I went over to introduce myself and wanted to make sure he was alright. He gave me a big hug and introduced himself as Koko Taylor's nephew. He told me how much he missed his aunt and how much I sound just like her. He then said, "Aunt Koko ain't dead until YOU close your eyes"! He said it was a joy to hear me. To be told that I sound like Ms. Koko Taylor was indeed an honor!!!
5. Why do you play/sing? Artists are inspired by many things, what inspires you?
I sing because it makes me happy to share this gift with others, to actually see the joy on people faces. During my show, my purpose is to bring people into my peace, joy and happiness and have them forget their troubles even if it's for a little while. I consider sharing The Blues my ministry.
6. Tell us the last few shows you went to see.
Last Summer my husband and I had made plans to go see Earth, Wind and Fire and Chicago because I had never seen either one of them in concert and they were on my bucket list to see them. Instead, we decided to take the money we were going to use for tickets, parking, food and drink to support our local artist in Indianapolis. It didn't matter what genre of music they played, Lee and I were there!! The expressions on the performing artists faces were priceless when they saw us in the audience supporting them!! We had a blast!!
7. What is your songwriting process?
Our songwriting comes from either thing we experienced in life or seeing experiences other people have gone through. Usually, while talking about these experiences (while drinking cranberry tea), one of us will say something and then the other would say "That sounds like a song to me" and next thing you know we're off and running with ideas. We also keep a notebook and pen by the bed just in case one of wakes up in the middle of the night with an idea for a song.
8. If worldwide fame was to come along but the price was performing another genre, what genre would it be?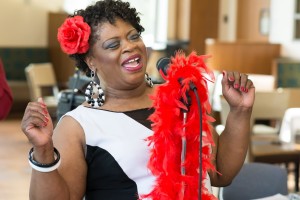 I believe singing The Blues is my calling. I want to be a preserver of this genre that is a part of my heritage. With that being said, if worldwide fame was to come fine, if I had to change in order to achieve it…..I'm not interested.
9. What artists or bands get you heart a flutterin'?
Mr. BB King gives me the "have mercies"!! Every note he sings and plays has pure raw emotion.
10. When did it hit you that music was your life?
I'm what you would call a late bloomer so it didn't hit me until August 2009 when I woke my husband up at 4am and said: "Honey I want to sing The Blues!!!"

11. If you were to write your memoir what would it be called?
I Ain't Done Yet
12. Tell us something about yourself that has never been printed about you before.
My husband and I met in Jail……..he was a counselor and I was a nurse. 
Come And Get It can be purchased at Amazon, CD Baby, ITunes and locally at Karma Records, Luna Music and Indy Vinyl.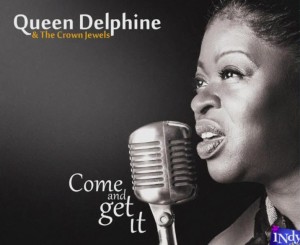 This is the third in my 12 part series. As always the questions were crafted by you, the fans and the answers are verbatim. My interview with Harriet Ellis better known as Queen Delphine, (her husband always calls her Queen) may be a late bloomer to the blues scene but she has hit one out of the ball park with her 2015 release Come And Get It. It may be only five songs but in that mix you find a really cool instrumental called Lammy's Blues (not intended to be on this CD as the band was supposed to be playing the intro to I'm A Woman) but was so good they kept it in