Okay folks #7 in my 12 on 12 part series features Regina Bonelli whose debut CD Open Up The Door released last year with a huge splash. It has received rave reviews and continues to enjoy rankings in some of the world's biggest charts. All but one track was written by Regina and her lyrics cover the gamut from cyber sex to being a single mother. The opening and title track grabs you from the get-go and the remaining songs keep you engaged lyrically as well as musically. I had the great fortune to see Regina perform at the Women In Blues showcase on Beale during IBC week, she wowed the crowd with her keyboard prowess and powerful vocals. Regina has surrounded herself with some world class musicians too! On guitars, percussion and vocals it is Michael Hill, on drums is Bill McClellan, she has both Mike Griot, Pete Cummings and Kevin Hill and David Barnes on harmonica on one track. While Regina could easily ride the wave of this release for years to come I am certain the world of blues are eagerly awaiting another CD! I know I am!
1. What's your favorite keys to play?
A. I like to play on an acoustic grand piano, but I also love organ and an old-school Fender Rhodes is a blast. Right now, I am playing a newly purchased Casio Privia, which has 88 weighted keys and a really great piano and organ sound. And its not too heavy to carry, either…

2.What was your most memorable gig and why?
A. I have had many memorable gigs. I was on national TV 3 times when I played on StarSearch, doing my original material with my band. That was amazing. Also, the big festivals are great because the sound is usually excellent and the crowds are cool. I had an amazing time at the Women In Blues Showcase in Memphis. It was my first time there and to be on the stage with all those amazing gals was just great. But, to be honest, I just played a small club in Brooklyn last month and my 21 year old daughter showed up unexpectedly, and I really wanted her to come and thought she couldn't make it, and I have never felt happier!
3. Why do you play/sing? Artists are inspired by many things, what inspires you?
A. I have been playing and singing since I was 4 years old. I have been writing songs since around 12. It is simply who I am and how I express myself, whether I'm in front of an audience or alone in my house. It's how I get my feelings out, joyful, sad and in between. Sometimes I just feel like playing!
4. What is your songwriting process?
A. My songwriting process varies. Sometimes a cool hook or phrase just pops into my head or I actually comment on something and think….that would be a great song. Or sometimes I think about something in my life that I am going through or something in the world that is happening and decide to write about that. Other times I may just be playing some chords or melodies that I like and then put lyrics to it.
5. What artists or bands get your heart a flutterin'
A. Ooh, so many. Well, I love the classic soul artists like Aretha Franklin and Chaka Khan, Gladys Knight, Donny Hathaway, Stevie Wonder, of course. But I've always loved Joni Mitchell too. And I love rock, Jimi Hendrix, funk Parliment Funkadleic. Big Momma Thornton was an early blues influence on me.
6. What is your "why", why do you do what you do?
A. I do what I do because this is who I am. All through my life I have done various jobs to sometimes supplement my bills and support my children, but I have always played and performed music professionally. It is just me.
7. Who first told you that you were "good enough"?
A. My parents. And then my friends. And then, on one of my first performances in public, I was at the Bitter End in Greenwich Village and unbeknownst to me, Odetta was in the audience and came up to me and whispered not to mind the people talking at the bar, that she was listening and she loved it. I was 18. I didn't even know who she was at first.
8. What was your first musical experience that moved you enough to take action and become a musician as opposed to a fan.
A. I performed on the stage of the Brooklyn Academy of Music at age 6…I think that did it LOL. And I was 16 or 17, playing and writing and started playing in coffee houses and was gigging 3 nights a week in bars by age 18.
9. What life experiences have brought you to write your songs?
A. Well, everything in my life, because I have been writing songs since I was a young girl. I write about things in the world…a lot of my older material was political. And, of course, love… I write about that. This debut "Open Up The Door" was written during a period of time when I was raising my children as a single mother. So most of it is about going through life from that perspective and dealing with that stuff.
10. What is the best and worst advice you ever received regarding pursuing a musical career?
A. A few times I was offered a record contract from a major label. The first time I was told they would sign me and not my band, and I turned them down. Looking back, maybe I gave myself not such great advice… but I was loyal to a fault. Another time I was advised not to take a major label deal because they wanted half of my publishing, and again, maybe I should have done it. But, you know…things happen for a reason and it put me on my path and I am so thrilled with my recod and the reception it's gotten, so it's all good. The best advice was from my producer, Michael Hill, who encouraged me to be myself, play my keys and do my own thing.
11. If you were to write your memoir what would it be called?
A. I Am Woman Hear Me Roar LOL
12. Tell us something about yourself that has never been printed about you before.
A. I am an excellent cook.
You can purchase Open Up The Door at:

Go get yourself some Regina in your life!!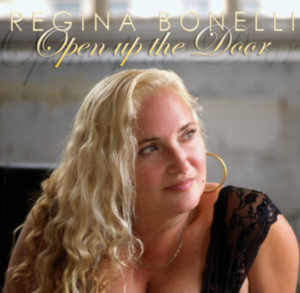 Peace and good blues,
Lori "Blueswoman" Graboyes