Brody Buster took home "Best Harmonica Player" at the 2017 IBC (International Blues Challenge) on February 4 at the Orpheum Theatre in Memphis, beating a very competitive field of talented music acts. The Lawrence, KS resident, who fronts Brody Buster's One Man Band as well as the Brody Buster Trio, also won second place in the "Best Solo/Duo" category at the IBC, where he was representing the Kansas City Blues Society.
"Winning best harmonica player is great, but winning second place in the solo/duo category is also important to me," states Buster. "I have been playing the harmonica my whole life but for to place second in solo act category is huge for me because I have only been doing this One Man Band thing for about three years. My guitar playing and my drumming have come along way in three years. I think winning these awards will help my career, but more than anything I think winning these awards validated all the hype from when I was a kid, 'I am no longer a novelty sideshow oh wow look at this kid' act. Now I am appreciated among real musicians, and after doing this for twenty-five years it feels good!".
Blues-E-News recently conducted a 5 Quick Questions interview with Brody.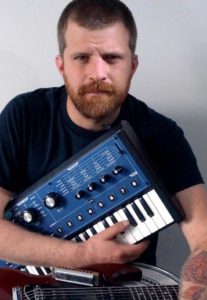 BEN: What do you think winning "Best Harmonica Player" at this year's IBC will ultimately do for your career?
BB: Winning the IBC was an honour and since winning has been able to take my career to the international touring level. So at this point put out a record, keep touring and see what happens.. honestly if I would not have entered the IBC I would most likely be working in the same pizza place I was working in at the time.
BEN: How do you decide which band to offer to a Festival and/or other live music venue, (either) your Brody Buster Trio, or Brody Buster One-Man Band? 
BB: Normally the buyer picks. This summer most of the touring is (with the) One-Man Band, right now that seems to be the most popular. Also what makes the most economic sense was for me to hit the road this first time around. The plan is to tour One-Man Band for a while build a following, then bring the full band.
BEN: Which do you get a bigger kick out of – playing for big crowds way back when you were 12, or doing the same thing today in your thirties?
BB: I am enjoying the ride right now. I am just lucky to be playing music full-time again so I am loving it
BEN: As a blossoming international touring act, what are a few of the most important bottom-line decisions you now have to regularly make?
BB: Well, my first big tours are in July and August so I have yet to really hit the road, other than a few small runs here and there. This summer it gets big and then again this winter. I will be learning as I go but so far I am just trying to balance it all have a life and at the same time tour and play music. My two kids are always a factor in every decision I make.
BEN: Where are some of the more notable places that you'll be touring this Summer?
BB: Montreal International Jazz Festival as well as a few other festivals in Canada. Tall City Blues Festival in Texas…I will be touring the west coast..while there stopping at Bronze Blues and Brews in Oregon.. also super-excited to play on the Durango Blues Train. Florida and the East Coast are in the works; stopping in Memphis on the way. Lots of stuff on the books that I am not yet allowed to announce as well.. so stay tuned.
by bluzmon