The Allman Goldflies Band (AGB) is bringing new energy to Southern music with honest, hard-driving, inspired performances, while also keeping the legacy of The Allman Brothers alive. AGB features raspy-voiced bluesman, Gary Allman (cousin of the late Greg Allman) on vocals and keyboards, and critically-acclaimed bassist, David "Rook" Goldflies, formerly of the Allman Brothers Band. AGB's performance is a celebration of classic Allman Brothers songs, original material from their upcoming debut album, and a unique selection of standard Southern rock anthems. The group is on track to become a leader and major contender in the new emerging breed of Jam Bands and Southern rock music. Currently based in Panama City Florida, AGB will be touring the U.S. soon.
Blues-E-News interviewed both David Goldflies (DG) and Gary Allman (GA) recently for our 5 Quick Questions series. Here's how it went.
BEN: What does the Allman-Goldflies Band hope to add to the fabled Allman Brothers Band legacy?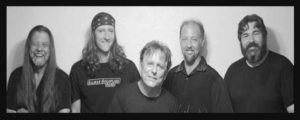 DG: Speaking for myself as a former bassist for the ABB, I want to create and perform music that has one foot in today's world. I also remind myself that a significant portion of my (musical) outlook was shaped by my experience with Greg, Dickey, Butch, and Jaimoe. There was undeniably some common experience that the original members shared. It showed in the decisiveness in their playing. They had a very clear vision of what the music should feel and sound like. I attribute that oneness of vision to their time spent with Duane Allman. They describe him as visionary and driven when it came to the music for the group. As music director and bassist for the AGB, I hope to instill that driven, decisive focus in our group. The guys in the band can tell you that I will push them to deliver real, visceral performances. We are on stage to MAKE SOMETHING HAPPEN. I think we can integrate todays musical world with the intensity that I experienced with the ABB. This, for me at least, would be a meaningful way to carry on and amplify the legacy of the original band.
GA: I don't know that anyone can add to their legacy. The Allman Brothers Band stands alone in a untouchable category as far as I'm concerned. I have the utmost respect for all of them; it is such a pleasure to play with David Goldflies and it's an honor to me to play their music, but we also have our own material which is in the same vain and style as the Allman Brothers band that we look forward to sharing with the public.
BEN: Who are the members of the Allman Goldflies Band?
DG: Gary Allman, from Mobile, Alabama – artist/songwriter, vocalist, slide and rhythm guitar, keyboards. Writes and plays from his soul. David Goldflies, from Oxford, Ohio (outside of Cincinnati), music director, arranger, composer, conductor, and plays bass and fiddle. Works to bring out the emotion in Gary's music. Joe Weiss, Chicago-born, guitarist, songwriter, intellectual, teacher. Voted 'most profound growth seen in a musician since Hendrix.' Matt Seigal, from New York via Texas, the new guy (and always will be). Guitarist, social media, web site updates. He found us on Craig's List looking for a southern rock band. Boy did he luck out! 🙂 Shawn "Shack" Shackleford, from Mississippi, drums, and patriarch to the largest extended family we have ever seen.
BEN: The Jam Band movement has taken on a life of its own in the last several years. Does AGB consider itself a Jam Band per se, or is it a more traditional-sounding group?
DG: We have elements of both. Our original songs are very precise in their arrangement. But there are many times in a performance where we break time in the middle of a song and drop into a jam that seems to come from nowhere. Since I spent time with the ABB I had a different approach to "a jam". It starts with this thought: Most bands end their songs with a long note. The drummer riffs on their kit, the guitarist, being freed from the confines of the song plays whatever comes to mind, usually a wild flurry of notes. The bassist, also freed from the confines of the song, riffs against the guitarist, the keyboardist mashes the volume down and plays a huge chord and so on. It is in this precise moment that creation can take place. It is somewhat like I envision the Big Bang (yes, that big band) where there was an explosion of all energy, light, and matter. From that event our world is formed. That is what can happen if a band understands what can come from that one note at the end of a song. My question to the bands I've played with (and the AGB in particular) is: What if instead of ending a song with that primal moment, why don't we START THE SONG THERE? That blew their minds but once we started listening to that moment we found an unending source of inspiration and ideas. So, as you can see we are both a traditional group that has arrangements and predictability but also know how to shed the confines of form and create in the moment.
GA: I guess I would consider us to be a Jam Band in a sense because we do often go off the ledge and and come up with some amazing stuff off the cuff that surprises us all at times, but then we also have our structured songs as well. I love to let the guitarists go and just play hard together which they do an amazing job at it when they do.
BEN: Is there an Allman-Goldflies album in the works, and if so, has a release date been set?
DG: Yes there is. It is called "Second Chance." It's a studio album and is near completion. The album features many of Gary's songs. The album has songs by both Gary Allman and myself. It will contain the song "Standing in the Georgia Rain" and a fun rocker called "Southern's All I Ever Want to Be." We are planning an end of January release.
GA: David and I started recording songs I wrote and has help me rearrange them better. David is an amazing musician and arranger and also has a special talent in the studio as an engineer! We are hoping to release our CD at the end of January in 2018.
BEN: Gigs-wise, where can we expect to see the AGB on tour in the coming year?
DG: Our new manager, Doug Isaac has some interesting plans for upcoming dates. Up until recently we had been playing for biker events and various rock clubs on the Northwest Florida coast. We hope to make the transition to venues that are looking for an act that not only satisfies the crowds' love of the Allman Brothers Band sound, but also want to be on board for the next generation of music that defines the deep traditions of Southern music.
GA: We're hoping to do a U.S Tour in 2018. I would love to see us cover as many states as we can without burning ourselves out on the road. I love seeing new faces and crowds I think we have a lot to offer and heartfelt songs that people can relate to. My personal feelings are that if I can touch one person's heart with my songs then I have done my job, and I want to touch a lot of hearts.
AGB links: www.allmangoldfliesband.com; https://www.facebook.com/AllmanGoldflies/