During February of 2016 American blues singer and guitarist, Peach Reasoner returned to Copenhagen to play with her band at her favorite club, the cozy Café Bartof. Club owners Joacim "Jokke" Friss Holm and Charlotte Bertelsen had graciously agreed that recording equipment could be brought for a live recording session.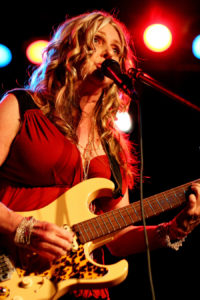 Peach and The Almost Blues Band invited keyboard player and composer Ken Stange (Joe Cocker, Roger Miller, Jose Feliciano) to come over for the recording. Ken Stange had played with PEACH for many years in her Los Angeles band. Ken plays piano, organ and harp. The result of the live recording is called "A Night in Copenhagen". During that time of year, Denmark is cold and dark… but the love in that room was the reason for the journey.
In this 5 Quick Questions segment, Blues-E-News asks Peach about A Night in Copenhagen, recording overseas, and more.
BEN: What were some of the main challenges of producing an album – a live album, no less- overseas, as opposed to working in a U.S.-based studio?
PEACH: Recording A Night in Copenhagen was delightfully simple thanks to the masterful work of Michael Engman Rønnow who recorded the live music, mixed and mastered it. We recorded live to disk with no overdubs. Thanks to the warm audience and professional audio engineering, we just played and I hope we captured the cozy (hygge) vibe that I find in Copenhagen, Denmark.
BEN: It's not like there's an overabundance of female-fronted blues acts. You're one of them. What is that day-to-day working dynamic like?
PEACH: Well, I used to joke it's like keeping track of my four husbands (my four male bandmates). I don't think it's much different for me being the leader of a female-fronted act than it would be for a male-fronted act….except for the stage clothes (laughs).
BEN: What are some of your fondest take-aways and memories from recording, performing, and living in Copenhagen?
PEACH: The musicians and clubs are always very generous to me in Denmark, and I've found a wonderful audience there. I like many aspects of living in Copenhagen…I don't drive a car and I walk a lot. The coffee is great and a lot of camaraderie is to be found. One sweet part is that I don't feel so "judged" in Europe on my appearance and age. Just being my funky self is all that I need. No lip injections needed. I find that aspect very liberating.
BEN: How about some tips for American club-owners, booking agents, etc. with regards to how musicians are treated (and paid!) in Europe?
PEACH: The reason European club-owners are paying musicians is because the clubs and festivals are (generally) making money. My perception is that the consumption of alcohol is greater in Europe. Also, after a long, cold winter, people come out in drove, happy for the fresh warm air.  I would not criticize the American clubs…. who seem to be barely hanging on. It's unfortunate because it's really difficult for the American clubs to make money and, subsequently, pay the musicians.
BEN: What's next for Peach and the Almost Blues Band?
PEACH: We are planning a tour for Summer 2018 which includes several festivals and clubs in Scandinavia. We are planning to record a studio album of our original music to be released in Europe.
PEACH links: http://www.peachmusic.com/live/
https://www.facebook.com/PeachBluesBand/;
http://almostbluesband.dk/Almost_Blues_Band.html;