By Staff Writer
R.D. Olson is a multi-award-winning harpist-vocalist and Arizona Blues Hall of Fame inductee, currently celebrating the release of his new album, Keep Walking Woman, with two big shows this weekend: Saturday, November 11 at Prescott Center for the Arts in Prescott, AZ; and Sunday, November 12 at a place that's very familiar to touring blues artists and music fans alike, The Rhythm Room in Phoenix. On both dates Olson performs with past Grammy winner and certified Blues legend, Beverly 'Guitar' Watkins (who will be backed by RD's band); and Special Guest from Southern California, The 'Six-String Siren,' fast-rising Blues guitarist, Diana Rein. "R. D. Olson is the real deal. Especially when it comes to playing the Blues, and playing the mouth harp, or the Mississippi Saxophone. He has style all his own and he was tutored by the best" – Blues Highway.
Blues-E-News does 5 Quick Questions with RD "The Real Deal" Olson.
BEN: Do you see yourself as the Past, Present, or Future of the Blues, and why?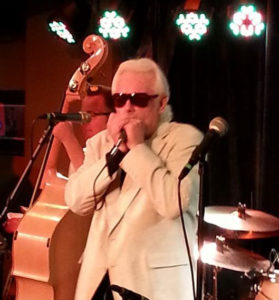 RD: I see myself as all, Past Present and Future. Let's start with the past. The last forty years or so I spent learning this music from the masters – Chico Chism, Long John Hunter, Luther Allison and many others. Now, I'm applying all those lessons to my career, in the Blues they call that 'paying your dues'. What I do today will determine the outcome of tomorrow. The future is dead ahead and I plan on being a part of that. Blues must change and grow with the times we live in and that's what I write about. I believe the only way to grow the blues fan base is by mixing sounds in from other genres to give it a fresh appeal to new ears.
BEN: Let's talk a bit about how you connected with two very talented female blues guitarists, Beverly 'Guitar' Watkins and the 'Six-String Siren,' Diana Rein?
RD: Jerry Sweley introduced me to Beverly Watkins a few months ago she was looking for a new band to back her up. She heard my music and decided I would be a good fit for her. Here's where the past meets the future of the blues. Beverly learned her craft from masters like Piano Red, B.B.King, and Ray Charles. The blues is passed on to the next generation by this means. On November 11th and 12th Myself and Diana Rein will perform with Beverly at The Prescott Center For The Arts and The Rhythm Room. Diana Rein is a young and upcoming blues artist who will get the chance to perform with her idol Beverly Watkins; and the blues is pasted on to the next generation of rising blues stars.
BEN: Most musicians have one or two favorite subjects they choose to write songs about, what are yours?
RD: I write about everything; I have no favorite topic. I only write when songs pop into my head. And, it could be about anything. One that I'm presently working on is called "Dreamers Blues" written about our brothers and sisters raised here in the U.S. but facing possible deportation.
BEN: As a harp player, this question ought to be near and dear to your heart: Who are your three favorite all-time harp players, and how/why did you choose these three?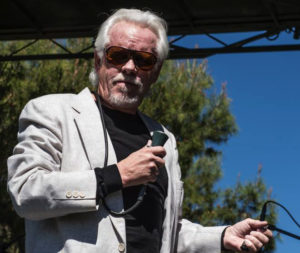 RD: My favorite harp players, hmm, Big Walter Horton, Little Walter and Kim Wilson, I could go on and on about that. I think what I love most is their tone and melodic phrasing.
BEN: What are the three areas of today's music business (including touring, CD sales, etc.) you would like to see significant improvement in?
RD: In the near future I would like to be out on tour a lot more, with that, goes CD sales and creating a larger fan base. There is nothing I would rather do more than to be a link in the long chain preserving the Blues for a new generation.
For more information on RD Olson visit www.rdolsonband.com or on Facebook, www.facebook.com/rdolsonblues.