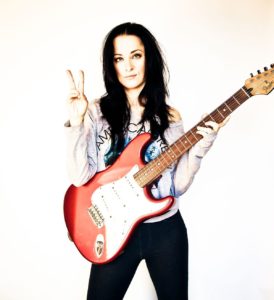 On Long Road, Diana Rein's latest critically-lauded album, the 'Six-String Siren' displays a sharp tongue, driving blues-based guitar, and melodic solos. The title track eases you into the album with the admission that life tried to steal her dream but "it's been a long road and now I'm coming home, time forgives, lets me in, starting over." With vocals and guitar solos intertwining in a call-and-response fashion, the melody keeps you floating on a sea of sound. "Wild One" punches the listener in the gut with its bone-rattling bass line and lead guitar riff. This sets the stage for what Long Road is about: Soaring guitar solos and thought-provoking lyrics. Some big attitude from a little lady. "I love to play the Blues till dawn, my main man is Stevie Ray Vaughan," which also allows Rein to honor her biggest inspiration. "Livin' Loud" exudes a swamp-y swagger, it's Hendrix-esque '60's guitar solo driving home the point that loud is the way it's going to be. "Greenlight" is a response to Doyle Bramhall Jr.'s "Greenlight Girl," with driving drums that won't let up and guitars that sound like a train steadily making its way into the stratosphere: "I'm gonna take you home tonight, it's us and the spirits of the night, baby I won't put up a fight, I want you now."
Blues-E-News did a 5 Quick Questions-type interview with Diana recently.
BEN: If you were to meet your main guitar hero, Stevie Ray Vaughan, and were given the opportunity to play one SRV-penned song live onstage with him, which song would it be, and why?
DR: That would definitely have to be Life Without You. I don't think it is a coincidence that I like that song the most because it is the song that he used to single out in his set to bring the music down and just talk to his audience from his heart. It was written for his longtime friend but after SRV got sober, he used it as a platform to open the door for people who were needing to hear some healing words and get sober. I love that SRV had a platform to get even closer to his audience, so they could see him as a human being and not just a guitar god. His suffering allowed him to escape into music which was definitely a gift to us all, but the biggest gift he left behind was that he overcame his demons and shined even more. He is such a great example to us all that are struggling. We all want to know that we can break through to the other side and still be okay. I know sometimes it might be easier to hang on to our habits, but easier doesn't mean better by any means.
BEN: How about a Diana Rein Top 3 list of who you feel are the best of the younger, new breed of male blues guitarists, and why?
DR: Let's see….the first that comes to mind is Philip Sayce. Having the opportunity to see him play live many times, I just dig the commitment and command that he has over the guitar with tone for days. Philip shares some of my same influences. He has been playing for a very long time and has really paid his dues. I just really love the way he puts his phrasing together and throws in many surprises, with speed or not. He knows how to switch it up really well and keep it interesting.
I would also have to put Anthony Gomes on this list because I met him in 2004 I believe and there is no doubt in my mind that he is the hardest-working guy out there with such a dynamic show. He's an awesome player and he really entertains and knows how to connect with his audience. Plus, I really vibe with his message that Music is the Medicine. I would also have to put Joe Bonamassa on this list although he has been around for a while. When I came to know of him it was probably around 2004. To see his evolution and continued obsession with the guitar has been very inspiring to watch. I am really liking that he developed his voice over the years to be able to sing as well. It's just nice when an artist has the full package going on. And I must admit, I love watching his videos where he shows his never-ending collection of amps and guitars. That guy just doesn't stop.
BEN: Same questions as above, except this time, the top three best young new female blues guitarists?
DR: The first one that comes to mind is Samantha Fish. I like that she is experimenting with new sounds and I have to respect how hard she works and tours. She is very good at finding grooves in her songs and creating themes to give her audience the space and time to get into it. Not to mention the fact that she is great at leading her band and is confident to step into the role. Next, I would say Joanne Shaw Taylor…she's definitely influenced by SRV and I can hear it in her playing. I can tell that she has formed a deep bond with guitar playing and that she allows herself to get enveloped by the spirit that moves her when she plays. It's great to see her let go. There's also another girl that comes to mind whose name is Sadie Johnson. She has a lot of spunk and talent….you can just tell that she loves playing and that's very infectious.
BEN: What guitars are you currently using, and what about these guitar (brands) make them your favorites?
DR: The guitars I currently use are the same ones that I started playing on and that have been with me from my two starts. The first is a red Fender Stratocaster, Cali Series that is now twenty years old. My father bought it for me eleven or twelve years ago during what I call my false start at playing the electric guitar. I didn't know what real practice was until I got wiser and realized that time doesn't stand still. My real start was in 2013 and it was then that my husband gifted me with a guitar that I wanted because it had a thick baseball bat neck….a sunburst Fender 1962 reissue Vintage Hot Rod Strat. I just love the thicker neck because it helps my hand ergonomically to stay in a looser position so that it doesn't cramp up when I am practicing and playing. The thick neck also lends itself to a better tone in my opinion and I have had a few offers from people during gigs to buy the guitar from me. That's always a surprise to me because unless I was really down and out financially, I would never consciously part with my two babies! (laughs). They were given to me by the two most important men in my life, they gifted me with songs and joy and they fit like a glove by now. They are priceless.
BEN: Of all the different music genres you could have picked, Diana Rein chose the blues (or, they chose you). What is your most compelling reason why you're a Lady of the Blues?
DR: I am an emotional person…..a lot of times I have been accused of being a melancholy person…..sure I like to smile and be friendly, but sometimes people see something behind my eyes that they recognize…a certain sadness. I can't help it. It's just there. From the time I was eight and remember hearing the blues for the first time…it was so expressive and simple and beautiful. It was something deep and sorrowful but also happy and engaging. It could bring people together that understood that life wasn't perfect always. It's accepting. But most of all, it is the best framework to allow the guitar to speak…melodically….and share what could never be spoken. I love the sound of the guitar so much, more than singing, that I get chills when I get to step into a solo and unabashedly get to sore on sound. Words just can't do a feeling justice like the expression of a blues guitar. So I am honored that I have found this gateway to hear the cries and majesty of the guitar but with my emotion built into it. It's the ultimate form of self- expression for me. I get to play what I love to hear.