London based Death.Blues band, Bleak, debuts dark new album just in time for Halloween.
 The band calls their style of music death.blues. To me it's close to dark Punk but I guess that death.blues is as good as any other name to call their genre. Anton, is the lead Vocalist, Harmonica and some Guitar.  Anton, from Russia, with his distinct dark gravelly voice is backed by fellow bandmates Rachel on bass and Yvonne on drums with AP Clarke on guitar.
We at Blues-E-News magazine try and cover all styles of music, not just Blues, occasionally stepping outside of the norm. Bleak is definitely outside of the "norm", as blues purists always protest our venture outside blues.  Despite the seemingly random direction we take this venture "outside the norm" generally brings us interesting results of what new generations of musicians are up to around the globe!
This Death Blues "music" has a rather large and developing movement and following. Bleak, a London-based band, has performed all over the world and even back here in the states. While Bleak took a short Hiatus their fans have been screaming for new music and new performance dates.  After a 5-year break fans will get their wish with this new album. Although, they may be screaming from the dark and moving content of this album titled: "Dig Two Graves," timed perfectly to be released on Halloween! Yes, the timing was intentional!
I was lucky enough to catch up via internet with Anton to get a sneak preview of the new album and ask a few questions. When we finished the interview Anton asked me for a quote and I laughingly said "Stop the horrible noise, please stop the noise." ~Big Wayne Rinehart, Blues-E-News 2016.   Surprisingly Anton loved the quote and claims he will use it.  Anton laughs then says: "Yeah, that's the vibe we're going for!"
But seriously, it's an interesting concept and style of music. One of the songs, "3 Days of Hell," is about the 3 days of riots in Tottenham, back in 2011.  Click here for a Timeline_of_the_2011_England_riots.
The album has 17 songs ranging from the rough and dark death.blues to nearly Folk music, with the three bandmates taking turns singing lead. One of my favorite songs was "Bones" where Yvonne debuts her vocal talent. I hope she continues to explore her vocal talent!
 After we took a listen to our advance copy of Bleak's new album, "Dig 2 Graves", Anton and I had a short conversation: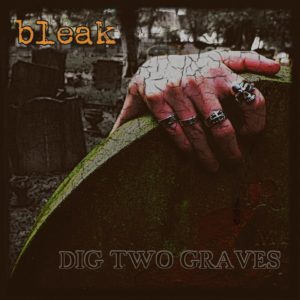 Wayne Rinehart: So, you have a new album coming out!
 Антон Шэдоув Yes, it's called Dig Two Graves. I think you'll enjoy Shanghai Blues and Bones. But, the whole thing is intended to be listened to in order.
 Wayne Rinehart: Sweet, I'm listening now!
 Антон Шэдоув Track 10 onwards is some serious suicidal stuff. Until the last tune which is a sort of "darkest before dawn" type deal, and leaves enough questions unanswered to leave room for a sequel 🙂 Also to add, the whole thing is recorded live, no overdubs.
 Wayne Rinehart: Interesting. Heavy topics.
 Антон Шэдоув: Track 3 is about the riots in our neighborhood in 2011 and it has a choir!
Wayne Rinehart: Wow!!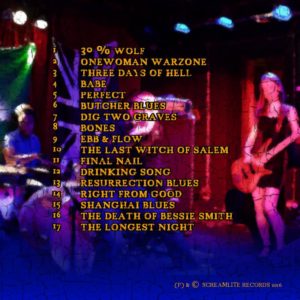 Антон Шэдоув We have a video for 3 Days of Hell too, that'll hopefully land on Halloween also "3 Days of Hell" is about the 3 days of riots we had here in 2011.  When literally everything was on fire. We got a good song out of it 🙂 It's the one with the gospel choir.
 Wayne Rinehart  (Video below) That was great. Was it a real choir, Or computer gen?
Антон Шэдоув Recorded in one take with no overdubs in a horrible dank basement in Rochester! Oh, it's real all right.
 Wayne Rinehart lol, Cool. Sounds great.
 Антон Шэдоув Come on, me, computer generated?
 Wayne Rinehart Lol, Well it sounded real but hard to tell sometimes. Had to ask!
 Антон Шэдоув Every track is live, no overdubs. If it was good enough for John Lee Hooker, it's good enough for us! Oh, you know my thing… I believe that the Blues should be done as it was done by Blind Willie Johnson, Bessie Smith, Howlin' Wolf. I believe it should be raw, brutal but beautiful. And it's hard to capture that immediacy if you don't do it live
Wayne Rinehart: The Death of Betsie Smith is a great song!
 Антон Шэдоув And let me tell, the tune was a nightmare to do live. The dynamics played havoc with everything! Took a dozen takes. Andrew who was playing guitar hated me by the last take 😀
 Wayne Rinehart Haunting!
 Антон Шэдоув And the little bits of studio chatter that we left in are testimony to that… Mostly us fucking things up, but you know…
 Wayne Rinehart When is your album to be released
 Антон Шэдоув:  It's Halloween. So it lands at midnight on the night between 30th/31st… Exactly midnight.
 Wayne Rinehart: Well Anton Thank you for giving us the opportunity to be the first to review the new album and thank you for your time!
 Антон Шэдоув And thank you.
Video "Three Days of Hell": Written about the Tottenham riots in 2011. Whilst in the middle of the riots, with everything literally on fire.
Bleak's sophomore album Dig Two Graves is released on Halloween 31 October 2016 on Screamlite Records and is available from Bandcamp at https://screamliterecords.bandcamp.com/album/bleakdig-two-graves
Bleak are:
Rachel Woodworth: bass, vocals, guitars
Yvonne Okoduwa: drums, guitars, vocals
Howlin' Anton: vocals, blues harp, guitars, bass
AP Clarke: live guitars
Bleak are based in Tottenham, North London. They play death.blues, occasionally appear obliterating stages live in London, Berlin or New York and are not easy to find.
Screamlite Records is an independent Cheltenham based label founded in 2013 and specializing in 4 main genres: rock, folk, punk and metal. https://screamliterecords.bandcamp.com/
Look for Bleak: on Facebook: http://www.facebook.com/BleakBlues on Twitter: http://twitter.com/BleakBlues