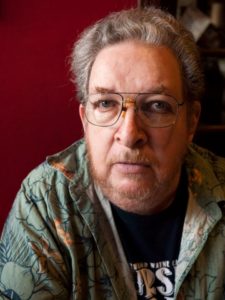 Hey there Blues-E-News fans worldwide…Funky Kenny here in Modesto, Ca., USA…Where do I start about me? I love Blues…My wife Anne and I travel with Tommy Castro and the Painkillers on the US West Coast as merchandise folks…Van Morrison is my favourite artist…I have seen him live 30 times and this weekend is the 51st anniversary of my first Van show which happened to be in Modesto with Arthur Lee and Love, The Grassroots and others. Van, at the time, was the leader of THEM…I was a radio DJ from 1968 thru 1994 and beyond and still do commercials for a non-profit local cable TV station…I have promoted my own concerts and have worked with many promoters on theirs from Dave Mason, ZZ Top, Tom Petty & the Heartbreakers to Stray Cats, Y&T and more. I was involved in ALL the Mountain Aire shows in Angels Camp, Ca that ran from 1974 thru 1987 when Bill Graham bought the name and never did another show there. I have put together local security for local WWF(E) wrestling shows…I wrote for a local magazine called Graffiti back in the 70s and soo much more…
My review this time around is on a show I saw a week ago at an area Indian casino. Greg Hester's Domino, The Van Morrison Experience was the first Van tribute band I have seen. Greg lives in Ireland but is from Atlanta, Ga. To show you how small a world we live in, I must tell you that a record promoter I used to talk with every week back in the 70s was from Atlanta and we still are friends on FaceBook. When I heard the Van Morrison tribute show was coming to my area, I sent him a message and asked if he'd heard of Greg and his show. I got a response almost immediately saying do not miss it because his brother was Greg Hester's manager and would be with him. (It's a Small World After All…God, I hate that song!!!) Anyway,  Anne and I headed up to the town of Sonora in the Sierra Nevada Foothills about an hour from us. We decided to eat downstairs before the show and I had the fish and chips with a half a cod-fish covering the plate. Needless to say, we wrapped up half of it and I had a 1 am snack when we got home.
We went back up to watch the soundcheck to get an idea of what was to come. The band sounded great!!! Greg Hester sounded a lot like Van Morrison!!! We fumbled around a bit before the show and got to our seats with my friend Alan who lives up there. He's never seen Van but has an idea what he does through some of my videos I have loaned him.
The show started with the band doing a crowd-warmup of Crossroads and did a great job of it. Then Greg Hester was introduced for Domino, The Van Morrison Experience. The 4 piece band with guitar, bass, drums and keys(augmented with a horn setup) were already into Moondance when the star of the show arrived on stage. This guy looks like Van with the suit, porkpie hat, dark glasses AND the moves. He starts singing and Dang, he sounds just like Van Morrison. We all look at each other and smile, big smile. He has the nuances down, the snappy fingers, slapping his side, directing the band to take a solo and the saunter between verses to grab a drink off the drum riser and return to the mic a half second before he's ready to start another stanza. Just like, You Know Who. For the next forty-five minutes and for the 2nd set this guy WAS Van Morrison. He did most of the hits because that's what a tribute audience wants to hear. Jackie Wilson Said, Domino, Baby Please Don't Go, Gloria, Brown Eyed Girl and of course, Into The Mystic, which he did in each set as a young lady missed it the first time and it had a very personal moment with Greg as he was leaving the stage after the encore. He went back to the mic and said he would be doing it again for this Van Fan. Very Nice gesture to end a great night of Van Morrison music. If Greg Hester brings his show to your area, do not miss it.
Until next time,
Stay Funky, Kenny