Karen Lovely
Ten Miles of Bad Road (addendum)
By Raul Watson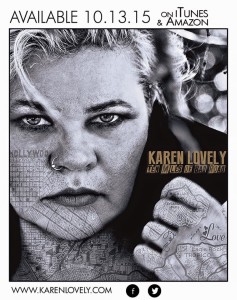 "Ain't gonna die  –  in a company graveyard"
I have been literally waiting three years for Karen to record this song.  A very powerful proclamation of individualism and freedom given to us by the late, great SongSmith Alan Mirikitani (BB Chung King), I saw Karen do this song with Alan at the Ventura County Blues Fesitval and there was no doubt she absolutely owns it.  She came through Columbus Ohio with a Muddy Waters Tribute and I got to see her perform it with James Cotton's guitar player.
She also performed with Bob Margione that night and that truly was a treat.
Any time you can catch Karen Lovely live it is a treat.  She has a powerful voice, a commanding presence, and an intimate affection with her material that makes her interpretations as important as her performance.
Alan Mirikitani plays guitar on the song, as well as a great deal of the album.. It is such a shame he did not live to see its release.  He not only would have had every reason to be proud, but I think his partnership with Karen was just beginning to reveal some real creative and relevant potential.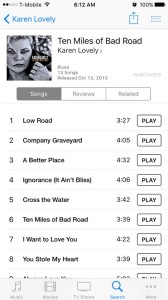 In a world where the strongest recommendation you can give an artist is apparently "sounds like…", creativity and relevance are two things the blues genre desperately needs.
"As the bridges burn behind us  –  straight aheads the only way"
From the beautiful and thoughtful "Cross the Water", to the pleading "Save Me",  to the raucous "Frank the Spank" everything here is fresh and unique.  Sounds like nothing you've heard before, but still sounds like blues.
To paraphrase Justice Potter said during the Larry Flint trials; "I might not be able to define the blues, but I know it when I hear it."
And Karen sounds like blues!
She originally knocked us flat with her debut release of classic Willie Dixon and John Lee Hooker classics.   That brought her accolades in Memphis, as did her contemporary blues compilation "Still the Rain."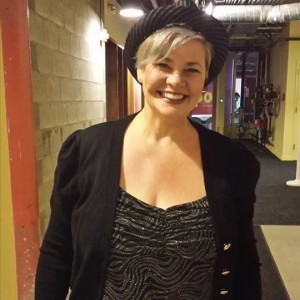 Then she gave us the live and livacious "Prohibition Blues" and I'm still trying to wrap my head around that one.  A brass bra bounty of sassy tunes from the prohibition era, Karen breathes life and energy into classics from some of the baudiest women in the history of music.
And now we have "Ten Miles of Bad Road" in which Karen seems to be incorporating the complex character she has created through her body of work into a recognizable brand.  I think K aren has been in the process of slowly allowing the artist she is to emerge and bloom within the confines of the genre that has chosen her as much as she has chosen it.
Karen Lovely is the Blues, and that is a blessing.
"You stole my heart, but its my car I want back"
I just can't stop listening to this record, go get yourself a copy at www.karenlovely.com
2014 Blues411 "Jimmi" AWARD NOMINEE
Best Traditional Recording "Prohibition Blues"

2014 "Muddy Award" NOMINEE
Best NW Recording "Prohibition Blues"

2011 BLUES MUSIC AWARD NOMINEE
"BEST CONTEMPORARY BLUES FEMALE ARTIST"
"BEST CONTEMPORARY BLUES ALBUM"
"BEST SONG" – 'STILL THE RAIN'

2011 BLUES BLAST MUSIC AWARD NOMINEE
"BEST FEMALE VOCALIST"
"BEST SONG"

2010 INTERNATIONAL BLUES CHALLENGE
WINNER 2nd Place Band

7x MUDDY AWARD WINNER
"PERFORMANCE OF THE YEAR"
"BEST FEMALE VOCALIST"
"BEST NEW ACT"
"BEST REGIONAL ACT"
KAREN LOVELY has appeared at:
Safeway Waterfront Blues Festival (USA)
Cognac Blues Passions (FRANCE)
Internationale Jazzwoche (GER)
Volkshaus – BluesNow! (SWI)
Rhythm & Blues NIght (NL)
Dutch Blues Awards (NL)
Ottawa Blues Festival (CAN)
Britt Festival, Jacksonville, OR (USA)
Riverwalk Blues Festival, Ft. Lauderdale, FL (USA)
Garvin Gate Blues Festival, Louisville, KY (USA)
Sunbanks Festival, Electric City, WA (USA)
Great Woods Music Festival (CANADA)
Canal Bank Shuffle (CANADA)
Blues Bender, Las Vegas NV (USA)
Bronze Blues & Brews Festival, Joseph, OR (USA)
Center for Performing Arts, Tempe, AZ (USA)
Blues Music Awards, Memphis, TN (USA)
Cascade Theater, Redding, CA
Highway 99 Blues Club, Seattle, WA
Biscuits & Blues, San Francisco, CA
Herb Alpert's Vibrato, Los Angeles, CA
Jimmy Mak's, Portland, OR
Railhead Station, Las Vegas, NV
Rhythm Room, Phoenix, AZ
Blues on Whyte, Edmonton AB CANADA