Very sad day today for many of my Horn playing friends. East Bay grease funk n' soul Trumpeter Mic Gillette passed away of a heart attack this morning. Mic was a mentor to so many of us, young to old. He loved to help out or host Brass Clinics, never hesitated to offer help or advice to fellow brass players making their way up the "ladder." He was one of our Brass heroes!
This weekend as I prepare to make my way to the Winter NAMM show, I had planned on finding the Marcinkiewicz Trumpets booth to see if I could say hello to Mic, who endorsed their horns and mouthpieces. It is a shock to hear of his passing and I am very saddened.
I came to know him through the music. Mic Gillette was in one of my all-time favorite bands Tower Of Power. As a trumpeter I followed those band's music that had phenomenal Brass sections. Mic left a musical legacy unparalleled by few. He is one of the most recorded Trumpeters of modern day.
His musical career spanned many decades. After touring for many years with Tower of Power he decided to settle down with his family. He began a program called "Music in the Schools" to help struggling music programs nationwide to keep their doors open. He continued to teach, record, arrange and play live gigs in Northern California.

Mic was best known for 40+ years of stellar horns work with Cold Blood, Tower of Power, and the Sons of Champlin. But not many people realize that he has appeared on countless albums and CDs for some of the biggest names in the music business–Santana, The Rolling Stones, Sheryl Crow, Doobie Brothers, Quincy Jones, Rod Stewart, Elton John, Jefferson Starship, Huey Lewis and the News, and numerous others. Mic also enjoyed a brief stint with Blood, Sweat & Tears.
Mic accumulated over a dozen Gold, Platinum, and Diamond Record Awards. He arranged horns and played on Santana's Grammy-winning Supernatural CD. An original member and leader of the legendary Tower of Power Horn Section, Mic also established an enviable reputation for his work with youth and school bands. In particular, his affinity for working with middle school and high school students endeared him to a whole new generation of fans in the 21st century.
My dream to meet Mic not only came to fruition but I actually got to perform with him back in 2006/2008. My band at the time was a blues and funk band with a large horn section called Greg Barker and Highway 61. Our horn section was the pride of the Valley being called many times the east, east bay grease after the TOP bands reference as East bay Grease! We were the Highway 61 horns! Our band of 11 to 12 was making our way up the Ladder.  We had a blast climbing the formidable ladder moving our way from garage band to opening for top name artists at fairs and festivals and finally headlining to large crowds exceeding 3000 people.
Our climb found us in the radar of other bands who might be interested in hiring our bandmates to sit in on gigs when other bandmates were booked or sick. One such occasion happened with Mic Gillette. Several of our bandmates developed a close relationship with Mic over the years, were invited to perform with him then later became part of his band.
As we moved up the ladder gaining more and more opportunities, Mic was invited to sit in a few times as well as help with some Horn arrangements for Highway 61. We were blessed with his support and respect. Although I was nervous and in fear of blowing it every time he sat in, it was a life lesson well worth the fear and the risk. LOL Once I was invited to his home where he helped me choose out mouthpieces for my horns. He painfully spent a few hours with me on my Trumpet, Flugelhorn, and Trombone. I never had any help with mouthpiece fitting before and like many horn players I wasted a lot of money trying to find the perfect mouthpiece. That quest ended that night with his personal help and selection from over a hundred mouthpiece to test out until we found "the one" or two or three or four lol!
The band learned many of the famed TOP and Cold Blood Tunes, and what a treat it was playing those songs on stage with him next to me. Great times and memories… Even with the eventual split of the band, the division from band mates who left to join him… Mic you are already missed! Thank you for sharing your gift with so many inspiring Horn players young to old, not just with your inspiring performance but in person hands on! Thank you sir for the opportunity and the LOVE… Thank you for the music. Heaven just got a little bit louder and a little sweeter….
Our prayers go out to his family and many friends! Thank you for sharing him with us!
Much respect and Love
Wayne Rinehart aka Big Wayne
Biography:
Mic Gillette is an American brass player born May 7, 1951 and raised in northern California's East Bay area. He is famous for being a member of Tower of Power, Cold Blood, and The Sons of Champlin. His father Ray Gillette was a trombonist with Harry James, Tommy Dorsey, Stan Kenton, and other big bands. Mic Gillette passed away January 17, 2016
A child prodigy, Gillette picked up the trumpet and was reading music by age four. At 15, he joined the Gotham City Crime Fighters (which later evolved into the Tower of Power), playing both trumpet and trombone (as well as baritone and tuba). Gillette took a brief break from Tower of Power to tour and record with the band Cold Blood, but re-joined Tower of Power a year later, hitting the road and opening for Santana and Creedence Clearwater Revival.
As its reputation as a premier horn band grew, Tower of Power toured with Heart, Rod Stewart, and The Rolling Stones, among others. In addition, Gillette has appeared on hundreds of recordings as a session player (in 1984, fearing that his daughter Megan would not recognize him, Gillette quit touring to be a full-time father). In 1998 Shortly after joining the Sons of Champlin he missed one of their concerts due to a split lip. According to Mic himself, he had split his lip, due to not playing for 14 years after leaving Tower of Power. He spent those years running a landscaping business in the San Francisco Bay Area.
An outstanding brass player with a great range and a funky style, Gillette now plays a Marcinkiewicz Rembrandt Model SC3X.351 Large-Bore Trumpet and a King 3B trombone with an F-attachment (he also plays a Pan American E-flat Tuba and an Olds 3-valve baritone). He uses and endorses Marcinkiewicz mouthpieces on all of this equipment. Oddly, Gillette practices very little; in a 2002 interview, he claimed to play only 3–4 days a week, and said he hasn't practiced regularly since he was seven.
Gillette is a former member of the Sons of Champlin (he departed in 2006), fronted by Chicago vocalist and keyboardist Bill Champlin; he is a current member of Tortilla Soup, a 10 piece northern California band. He also plays with comedian Danny Marona, the Stevie "Keys" Roseman All Star Band, the Strokeland Superband and Funky Loophole (Gillette's own band).
Married (to Julia), Gillette suffered a heart attack (reportedly, his daughter saved his life), and has vowed to get and stay healthy. He has toured and recorded with The Doobie Brothers (appearing on the Doobie's "Live At Wolf Trap" DVD), Blood, Sweat & Tears and Santana, and has released a children's album "Newvo Kids" (1995) and a solo CD entitled "Ear Candy" (2005) on the BKA Records label. He is also featured on "Hip Li'l Dreams," a disc of originals released by the Sons of Champlin in 2005.
Mic has worked on various side projects. After a chance meeting with Tony Adamo, Mic wrote the horn arrangements for his album, "Straight Up Deal." His arrangements can be heard on Adamo tunes "No Strings," "Up in It," and "Groove Therapy."
Mic currently performs with vocalist Josh Pfeiffer in Northern California with an 8-piece group featuring guitarist Dave Schramm and keyboard player Kent Gripenstraw.
After a 25-year absence, Mic Gillette rejoined Tower of Power (August 2009) for touring, replacing Mike Bogart. After just more than a year and a half (February 14, 2011), Gillette departed Tower of Power.
Gillette now continues to do session work as well as live appearances. He however, spends most of his time doing clinics at middle & high schools. He has raised hundreds of thousands of dollars for music departments in schools across the United States.
Now: Fulfilling a long-time dream to assemble his own band, he brought together Megan Gillette McCarthy, Greg Barker, Dave Hawkes, Clint Day and Matt Martinez to create MGB, the Mic Gillette Band.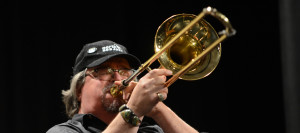 Doing what he will be remembered most for.. helping and inspiring youth..