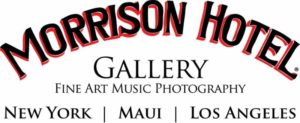 Morrison Hotel Gallery Announced As The Official Gallery 
For The Monterey Pop International 50th Anniversary Celebration
Another Planet Entertainment and Goldenvoice in association with the Monterey International Pop Festival Foundation announced today that Morrison Hotel Gallery – the international leader in fine art music photography – is now the official gallery for the 50th anniversary celebration of The Monterey Pop Festival, occurring 50 years later. Morrison Hotel Gallery will be on site at the festival with a pop-up gallery that will have over 50 photographic prints for sale, of the artists that performed in the original Monterey Pop.
The dream of bringing together artistson the cutting edge of music in the name of charity, developed into what would become one of the seminal concerts in rock history. With the war in Vietnam on the world stage, cultural awareness and protest took a form of "music, love and flowers" with 170,000 people gathered at the Monterey Fairgrounds. The festival, produced by Lou Adler and John Phillips, was a beautifully orchestrated, peaceful gathering created a groundbreaking experience for attendees to embrace the music and be a part of what would become an explosion of culture that has impacted generations.
"Morrison Hotel Gallery is honored to be the official gallery, and part of the anniversary celebration of the historic Monterey Pop Festival. That's what our gallery is all about – the music, the history, the culture. It's what we and all the photographers we work with, represent, and it's coming full circle, 50 years later to the day, on the same spot," says gallery co-owner Timothy White.
Morrison Hotel Gallery co-owner and founder Henry Diltz – also the official photographer for Monterey Pop 50 years ago – will be on site to greet fans and sign autographs. A number of photographers represented by Morrison Hotel Gallery, who were on site at the original Monterey Pop Festival will be there to celebrate this culturally historic event with the gallery and fans. Filmmaker D.A. Pennebaker, the man behind the Monterey Pop movie, will also be on site at the gallery to talk to fans. All the photographs in this gallery will be for sale on site. There will also be a Monterey Pop exhibit at the NYC gallery from June 16th thru July 3rd.
The three-day music celebration event will take place at the Monterey County Fairgrounds from June 16 to 18 – exactly 50 years to the day and on the exact same spot of the legendary festival in 1967. Festival schedule and ticket information can be found here.
About Morrison Hotel® Gallery
Morrison Hotel®Gallery (MHG) was founded in 2001 by former record company executive Peter Blachley, music retail industry professional Richard Horowitz, and legendary music photographer Henry Diltz. In 2012, author, director and photographer Timothy White joined the team, launching an additional West Coast gallery at The Sunset Marquis Hotel in West Hollywood. The partners just launched a new location at Mick Fleetwood's General Store in Maui, Hawaii.
MHG is the world's leading brand in fine art music photography representing over 100 of the world's finest music photographers and their archives. Their vast catalog of photography encompasses jazz, blues, and rock imagery spanning several generations through to today's contemporary music artists and now includes iconic photographs in the world of sports as well. MHG has a robust online presence, featuring over 100,000 images searchable by photographer, music artist, band or concert. www.morrisonhotelgallery.com
Morrison Hotel Gallery
116 Prince Street || New York, NY 10012
212.941.8770
Morrison Hotel Gallery
Sunset Marquis
1200 Alta Loma Road || West Hollywood, CA 90069
310.881.6025
Morrison Hotel Gallery
Fleetwood's General Store
744 Front Street || Lahaina, Hawaii 96761
808.669.6425 (MICK)
For media inquiries, please contact
Kiva Kamerling
The Press House