Trolling through the internet today as I looked for new music and checked up on all things music, I got "rabbit trailed" down a path of music videos, funny pet vids and ended up on this video of Flea (Red Hot Chili Peppers Bass players) and Koko the talking Gorilla, well, signing gorilla.  I hate to say this but I didn't even know that Koko was still alive! I mean I heard of her way back when I was in Highschool. Anyway, as I watched the video I felt compelled to dig a little deeper.
The video shows Flea introducing himself to Koko and then another where he shows Koko the bass and yes, it's plugged in. At one point Koko takes the bass and seems to knowingly play it, imitating the movements of Flea's hands. I suppose if Koko imitated Fleas action's on stage this video would have made headlines. lol
Well, even though this has little to do with the blues, it is music news and there's been plenty of negative news in the world lately so I felt you all wouldn't mind a little break from the norm. I mean that's what we do anyways.
"This is just the greatest thing that could ever happen. This is the day that I will never forget in my life," Flea says in a video posted on the Red Hot Chili Peppers' YouTube. The bassist looked on as the 45-year-old Koko plucked, fiddled and nuzzled the instrument.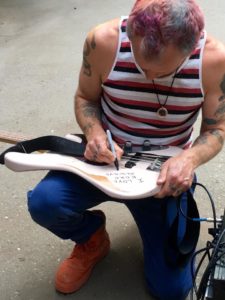 "One of Koko's favorite musicians, Flea from the Red Hot Chili Peppers came to visit," the Gorilla Foundation wrote on their website. "Koko was thrilled by the mellow sounds and a jamming session followed with Koko strumming on Flea's bass!" The foundation also promised "future collaborations" between the bassist and the primate.
Later at the end of their meeting, Flea signed one of his Bass Guitars and gave it to Koko.
We have so much to learn from animals, they understand more than we think.
How cool is this for Flea, Koko and for us!
Help support Koko & The Gorilla Foundation here:https://www.bonfirefunds.com/kokos-team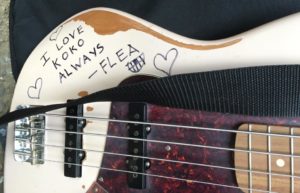 Wayne Rinehart
Managing Editor and Publisher
Blues-E-News Magazine
Koko rocks a flea bass like it ain't nothing
Interesting article about Koko and what we can learn from Gorillas about being Human!