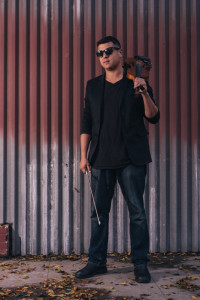 Summer time in The Central Valley of California is well know for its high heat temperatures! But it has another hidden source of heat that is year round, Patrick Contreras on his smoking hot Violin!
Patrick is filling seats at local venues with more and more new fans with each gig! and… Hes reaching a very musically diverse group of listeners. "This is very exciting to us here at Blues-E-News Magazine, because this is growing the listener base for the blues to a new generation! Patrick is down in the trenches converting new fans to the blues one listener at a time!"~Wayne Rinehart Managing Editor and Publisher of Blues-E-News
Take a listen to these two videos We think they are great.
Patrick is working on branching out of his local Scene of Fresno and surrounding cities this year. The desire of course is to get more opportunities and grow his fan base.. But we dont see him having any troubles achieving this.. What do you think?
Patrick and his group "Violins On Fire"
https://www.facebook.com/pcviolin/